Save the Date – Spring Open House!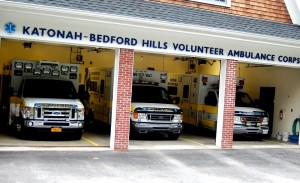 KBHVAC will host an Open House at our headquarters (160 Bedford Road, Katonah) on Sunday, May 15, 2016 from 10a – 4p. The event coincides with the start of National EMS Week, which brings together local communities and medical personnel to publicize safety and honor the dedication of those who provide front line emergency services.
Family fun includes EMS-themed games and activities, ambulance tours, food and more. Our members will be available to discuss volunteer opportunities.
Proudly serving the community since 1963
KBHVAC is an all-volunteer organization and the primary provider of basic emergency medical services in the Katonah and Bedford Hills area. Over 100 members respond to calls 24 hours a day,
365 days a year.

EMERGENCY: CALL 911 for medical emergencies. We're there for you!