Welcoming Autumn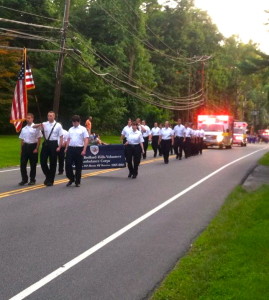 As we greet a new season, we reflect on the summer gone by. We're happy to welcome several new members, bringing our Corps total to 112. We're grateful for these new volunteers and friends.
We were proud to win Best Ambulance Corps at Bedford Fire Department's annual parade. Over 25 members represented KBHVAC as we marched through Bedford Village. 65-B3 glistened through inspection and our first-ever trophy is on display at our headquarters.
Our July blood drive collected a record number of pints for the Red Cross; we thank our neighbors and friends for their support of this important initiative.
Throughout the fall, we'll host Continuing Medical Education (CME) courses for medical practitioners and CPR / First Aid classes for anyone interested.  Contact us for a schedule of upcoming classes.
Most importantly, we continue to serve our community, 24 hours a day, 7 days a week, 365 days a year.  We're here when you need us – and we're thankful for your ongoing support.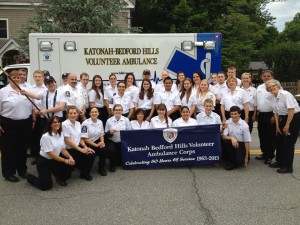 Proudly serving the community since 1963
KBHVAC is an all-volunteer organization and the primary provider of basic emergency medical services in the Katonah and Bedford Hills area. Over 100 members respond to calls 24 hours a day,
365 days a year.

EMERGENCY: CALL 911 for medical emergencies. We're there for you!